Everything You Need to Know to Use Virtual Staging to Sell Your Home Effortlessly
Updated: Jun 17, 2022
What is Virtual Staging?
Virtual staging is the process of turning high-quality photos of your home into the perfect vision of what your home could be through classy yet broadly appealing styling. Virtual stagers are 3D visualizers with excellent command of several rendering programs. Using these programs, virtual stagers can erase your footprint on your home, then refill the space with quality images of the furniture, plants, artwork, and more, down to reflections and shadows.
Virtual staging is changing the face of interior design. With online interior designing, it's possible to make changes in future real estate deals by virtual staging. It makes things easily staged and designed with great architectural designers and 3D visualizers available in the team, these tasks would be possible in a faster way. Transforming a room or a building to a visual concept became easier than before. That is where VINTEREX focuses on creating a detailed exclusive design for its clients. A trusted partner with more than five years of experience in interior and exterior designing. With these amazing tools and creators, a lot of people have the opportunity to enjoy the work and let designers design their homes in detail with less spending on real staging.
Virtual staging is not just a technique for real estate agents but it also offers a great range of advantages for anyone who wants to decorate their homes, offices, or any other building spaces. The newest 3D rendering software allows designers to see exactly how everything will look in their home before investing time and money into projects that may never happen if changes need to be made again later on.


When everything is possible in a digital way, why do we have to stress about the hassle of moving furniture around to find the perfect home style for ourselves?. We love the traditional types of home decoration, and that is going to be the finalization of the design. The reason that virtual staging is cost effective and time consuming is, you can redesign the entire room in one day without worrying about damaging the furniture or moving them out of the space. The desired room or home style is just a few clicks and consultation away from you. You can consult with our team and let us review your rooms and maps to give you the best ideas close to your style, book a session with us here.
The most important way of creating a model of an empty room is that, choosing how much new furniture can be measured in the space. Building a home is not an easy thing to do. It needs so many elements combined in order to have a good result. We all know that how much we love the decoration of our house, every once in a year we need to change it because we get bored of it, that's how we feel all the time about our home. We need to go shopping for new furniture and testing it out to see if it even matches our desire or not! lots of unnecessary jobs need to be done when we can do all these by creating a visual vision first and then getting our favorite furniture in place. Hiring a professional that can get this job done is one of the key points. A professional can be creative enough to meet your desires with his ideas, or it can have a completely different perspective from what exactly you want. That is why we have different designers in our team to make sure any ideas will be considered in the best way possible. In the platinum plan, you can have our professionals review and consult your all the way to the end of the project. Get a quote with us today.
Why will it Increase Home Sale Price?
Always remember, buying a home tends to come down to intangibles and gut feelings. Although it is a massive investment, the ultimate decisions to purchase or pass come down to emotional reasons-- making it essential to have excellent photos of your home on your listing. Even if your home is older or needs repairs, the emotion will carry them through to make an offer if you can convince the buyer of the home's potential.
All of these factors contribute to a fast sale at your asking price (or hopefully well above). The time and effort you invest into an excellent listing will undoubtedly translate to real dollars in your sale, and virtual staging allows you to invest the least for the highest ROI.
photo by Mark Boss
Why Virtual Staging Over Other Options?
You may be wondering why you need to stage your home at all and why you wouldn't go with a traditional stager if you choose to use one.
The data over decades shows that homes that list for the right price the first time sell faster at a higher price than homes priced too high that eventually lower prices. While you technically don't need to stage your home, your listing is much more likely to attract attention if viewers can imagine themselves in your space. Speaking from experience, it can be difficult for people to feel at home when they have to see past custom paint colors, clutter, minor damages, or outdated homes.
Now, you may choose to go with a traditional stager-- however, they will not be able to solve all of these problems for you, it will take more effort on your part, and it will likely cost more. In addition, traditional staging typically only covers what is put into the room, so there will be no fixes for paint choices, chipped wood, etc. Finally, traditional staging will require you to remove all possessions from the space.
If you are moving before selling already, this may be a good fit for you. However, many home sellers can't buy their own house until closing on the sale of their existing property. You will save a lot of time and stress by simply delivering quality pictures of a clean home with your things still in it, and then allow the virtual stager to remove your items and stage anew.
Keep in mind that these strategies also work for those creating listings for rentals as well, whether it be apartments or homes.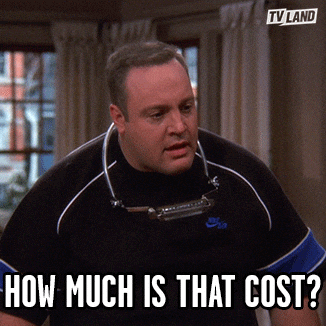 What Does it Cost?
Virtual staging jobs can be billed in various ways, including per picture, per room, and per hour. With VINTEREX, you don't need to worry about an obscure budget, as each project includes a free consultation before entering a contract.
On the other hand, traditional staging can cost anywhere from a few hundred to several thousand dollars. It all depends on how much furniture you need (more for larger homes) and how long you need the furniture. Some prefer to leave staged rooms for home tours, which will cost more.
What to Expect?
If you decide to take advantage of the time and money savings while returning a higher sales price on your home through virtual staging, here's what you should expect.
First, you will need to have high-quality pictures taken of your entire home, including the exterior if it's applied. While it is unnecessary to move all your possessions from the house, the better you can clean, the easier the job for the designer. You'll especially want to clean well if the stager is billing per hour, as every task they need to erase and rebuild will take them longer to do well.
You may want to hire a professional real estate photographer to take your photos. Viewers can often tell the difference between professional and amateur photos, and it really does make a difference. For example, professionals will nail proper lighting and focus. If designers have to work with dark photos, it will be hard to incorporate new elements and appear natural. Plus, dark or unfocused images simply don't sell.
Next, you'll choose a virtual staging company. As we mentioned earlier, we offer a free consultation at the beginning of your project. This initial meeting will allow our team of professional digital artists and interior designers the chance to talk with you or your realtor about the target demographic for your home, work out a budget, and a timeline for delivery.
All you have to do then is sit back and wait for your professional to complete the virtual staging. Then, you can check this off your list and move on to other important tasks when selling a home.
If you want to know how we can help your project, check also the article "How to Use Online Interior Design Services to Plan Your Next Home Renovation"